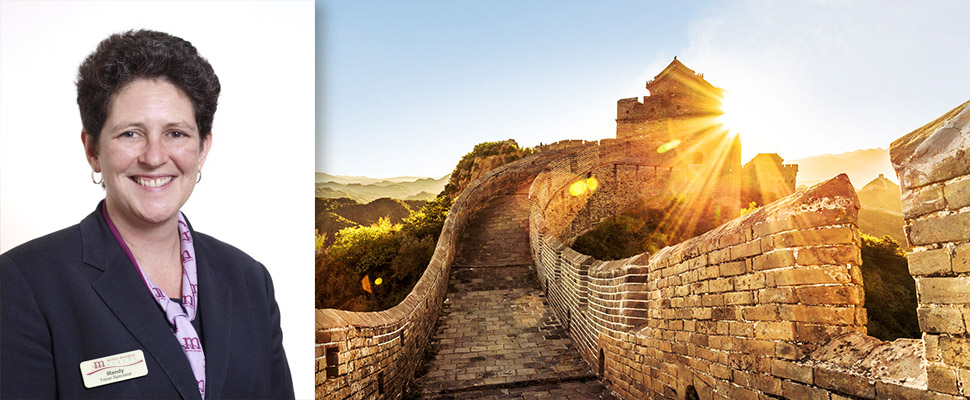 I have just returned from a trip of a lifetime to China, with Wendy Wu. Its been on my "to do" list for quite a while, so I was really looking forward to it and it didn't disappoint!

We were just a small group on this tour, 11 in all. Usually they are at least twice that, but at this time of year you don't get many Westerners travelling to China, due to the cold weather. It averaged approximately 4-10 degrees, and whilst it was dry, it was cold!

The tour itself was based on their In Pursuit of Pandas, with a stopover in Hong Kong.
Day 1 - Beijing
We started with a walk through Tiananmen Square, where our local guide provided details on its history, of Chairman Mao and the government buildings. Then on through to the Forbidden City, home of the Ming and Qing Dynasties for over 500 years.

What I couldn't get over was how vast this area is – 180 acres, with over 900 buildings in the complex, only a few of which are open to the public. It was built over a period of 13 years and is all based around Feng Shui theory, an ancient system based upon the observation of heavenly time and Earth space. The colours on the woodwork are vibrant, and the stories you'll be told are fascinating – especially about the concubines!

From here, we went on to have a traditional family lunch prepared by a Tai Chi master's wife in their own home, before a rickshaw ride around the Hutongs. Take the opportunity if you can, as this is a rare site to see. Then finally an opportunity to shop, or walk around the magnificent man-made Lake Houhai, formerly part of the Imperial Gardens.
Day 2 – The Great Wall of China.
This is an early start and well worth it to avoid the crowds. You'll have to be relatively fit if you want to climb up the many uneven steps to admire the views from the top. (I only managed half way!)

It was only a small section of the wall that we visited, but enough to get an idea of the scale and complexity of it. It's incredible to believe that this wall, built as early as the 7th Century, still survives today – although many sections of its 5000+ miles, are inaccessible, and in disrepair now. Did you know it would take you 18 months to walk its entire length?!

The afternoon was spent at the Summer Palace, a favourite holiday resort of the Empress Dowager Cixi. In the stunning settings of Kunming Lake and Longevity Hill, it's home to the Long Corridor, famous for its length (728m) and its rich decoration of over 14000 paintings of local scenes, the Chinese people and their myths. Also, the Marble Boat, known as the Boat of Purity and Ease, made from solid marble, which once served as a Tea House to the Empress.

We finished up today with a quick trip to the Olympic Park, before settling down for a meal of the famous Peking Duck!
Day 3 – The Temple of Heaven
One of the most perfect examples of Ming architecture, the Temple of Heaven is set in 650 acres of parkland, where you can see the locals gather to sing folk songs, play cards, sit and chat or practice Tai Chi. If you get the opportunity you must give it a go – it's not as easy as it looks!

Following on from here, we took the bullet train to Xi'an – a 7-hour journey. Time to relax, read a book or catch up on some much-needed sleep! The train doesn't provide food on-board other than a refreshment trolley, but Wendy Wu kindly provide a local packed lunch.


Mandy's Train Tip
Note that you are not permitted to take ANY aerosols or lighters through security on this train.
Day 4 – The Terracotta Army
One of the highlights of this trip was the Terracotta Army. Absolutely mind-blowing to realise that what we saw was only twenty percent of what is buried!

I was also surprised to learn, that the first pit was only found in 1974 by 4 famers digging for a well and the second pit was found by accident in 1998! The work and preservation going into this incredible discovery is amazing.

The afternoon was spent visiting the 14th Century city walls that enclose the old town of Xi'an, where you can hire a bike or take a stroll, before transferring to the bullet train again for our final stop on the mainland – Chengdu, a 3-hour journey.
Day 5 - Panda Conservation Centre
My favourite! I was impressed at how well it is laid out and how relaxed the bears were. You could easily take a picnic and spend all day here! It's fab how close you are to the pandas, and the baby ones are just adorable!

After lunch, we had another shopping opportunity at Jinli Street, known locally as "Brocade Alley". It's full of quirky shops, locals in costume, and a real buzzing atmosphere. If you fancy it, try the local delicacy – rabbit's head...

This evening we had the chance to see an opera, which I'd strongly recommend. You'll be amazed by the stunning costumes, shadow hand show and the incredible face changing section! The opera itself is based on a traditional local story about a misbehaving husband and the punishment his wife gave him. No comment.
Day 6 Hong Kong
We had a very early morning flight, so we had to be up and ready at 4.30am. However, it meant we arrived in Hong Kong with plenty of time and were able to fit in some sightseeing here too.

First stop, the Peak Tram, for some spectacular views of the island. One of the advantages of being on a Wendy Wu tour is that we got to skip the two-hour waiting line! From there on to Aberdeen Fishing Village, home of the great Jumbo restaurant. We rounded off the day at Stanley Market to pick a few bargains.

If you can, take a sampan ride around the harbour, you'll see are real mix of the old and the new boats in the harbour – a reflection on how times are changing in Hong Kong.
Day 7 Hong Kong
We enjoyed a full day tour of Lantau Island, starting with the cable car ride up to Ngong Ping Village - not for the faint hearted, as this takes about twenty minutes to complete! Then on to the Po Lin monastery, with its temple of 10,000 buddhas, and the Tin Tan Buddha, a relatively new attraction built within the last 25 years.

We finished off with a trip to Tai O, a traditional fishing village community, with houses built on stilts. If you get the chance, take the boat ride around the village and out into the ocean to catch a glimpse of the local (and endangered) pink porpoises.
Mandy's China Tips
The toilet facilities are very basic, be they either Western (which are few and far between) or Asian style (squat loo), so don't turn down the opportunity to go to a "happy room" when one is available
Public toilets don't provide toilet paper – so make sure you always carry some with you
On a tour like this, you will eat as the Chinese do – so don't be surprised if you can only get noodles for breakfast! Some hotels do, however, offer a small selection of Western foods in the morning.
Be prepared to do a lot of walking. Whilst the pace is gentle, some days will involve a lot. We did 16,000 steps in one day, according to one fitness tracker
Have a positive attitude – China is very different in both culture and attitude, streets can be busy, hectic and noisy at times. The Chinese people may well ask you for your photo too, let them and keep smiling – you'll make their day!
Be prepared for the smog! It is as bad as they say. It's worth using a face mask if you can, your lungs will thank you later!
If you'd like to know more – pop in and see me. I'd be happy to show you my photos, and share my stories of this amazing experience – after that? You'll definitely want to visit!!